The water may be bitter…
Posted on February 7th, 2013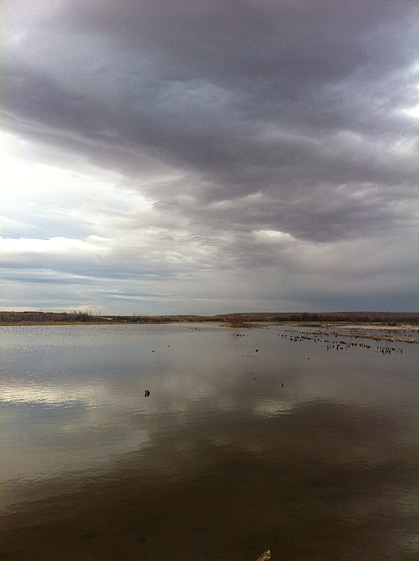 A month has gone by since I've arrived here in Roswell. I'm not certain I'm surprised by this, but time passes very quickly here.
The summation: I've done a lot of conceptualizing, had a lot of long in depth phone conversations with friends and collaborators, played with tape loops quite a bit, ordered and still awaiting 9 audio cassette players for what will be a coin operated ouroboros  tape loop reichian drum circle machine, made two video pieces (one for my new electric drone rock outfit I'm calling Tiros Won! – to be released world-wide-web-wide in the next few weeks, and one with collaborative entity with Jamie Lee Mohr, Trust/Fail, viewable [here] …a Trust/Fail art show is accumulating), recorded and written several songs (to be released as Tiros Won! under a new publishing entity by myself, Forest Graham and Savannah Lamal, Blank Magic, LLC… sneak peak/fundraiser is imminent), started planning a series of drawings and paintings, made some headway on a painting I owe my former studio-mate David and his son Ariel which involves a lot of tentacles, acquired a new interest in stained glass and neon beer signs to compliment my continued interest in light, and beer, taking a ceramics class on Tuesday evenings, currently building an architectural wall work that very possibly could end up being pretty cool, revamped and expanded Ghost Radio, a piece which debuted at last year's DeCordova Biennial, for an upcoming exhibition at Salisbury University in Maryland, found a local karaoke joint, Billy Ray's which has karaoke evenings two nights a week, and, Karaoke, I'm finding, is a key component to my art-making, and my understanding of contemporary folk culture (reclaiming overproduced media product into visceral home-brewed ritual). An essay on this in the works.
Also, on the natural end of the world, not to far from the compound here is the Bitter Lake Wildlife Refuge. It is awesome. I'm just going to say this: check out dragonfly nymph jaws. They're nuts.   Oh, and they also have butt water jets.
---