Welcome to Roswell.
Posted on January 5th, 2013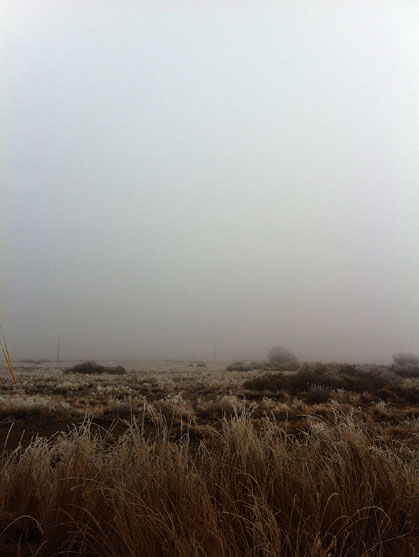 Arrived day before yesterday in Roswell, New Mexico, for a year-long stint of making things here: www.rair.org [link] . I'm ridiculously humbled and honored to be here.
"All America City" aka "Alien City," Roswell's population was 48,366 at the time of the 2010 census. Elevation, 3,573 ft. I've heard there's a good salad bar downtown somewhere. Also, a weather balloon crash landed 75 miles from here in 1947.
After a day of spending a lot of time to myself setting up my living and studio spaces, an evening of meeting many new faces ensued. Ryder Richards [link], a fellow grantee, set up his studio space as an ad-hoc gallery, a box within a box in which he curates monthly exhibits. Last night was a reception for Jonathan Whitfill [link], an amiable fellow from Lubbock, Texas who elegantly destroys book with beautiful results, within Ryder's "Cube" gallery. Is it wrong that I want to lick work that's deeply encased in resin?
Another fellow grantee, Natasha Bowdoin [link], opened her studio doors for viewing. Densely layered paper-cutting text/painting organic mutations of space, form, and language. Something very plankton-like/micro-gone-macro about her work. I like a lot. Oh, and there were marionette tigers! Very much looking forward to seeing what she turns out over the course of the year.
Advertisement:
A late morning in the future.
Front centre a small table, the two drawers of which are open.
On the table, a tape-recorder with microphone and an overly-full box of recorded cassette tapes.
An alien disguised as a coyote sitting at the table, facing front, a wearish old dog.
Cracked low voice. Distinctive intonation.
"This is not a lip sync contest, this is full contact karaoke."
---