These hands puts the pain on.
Posted on September 28th, 2011
These three arts on sticks will be available through Mark Mulherrin & Kirsten Warming's collaborative project "Art on a Stick" Thursday, September 29, downtown North Adams.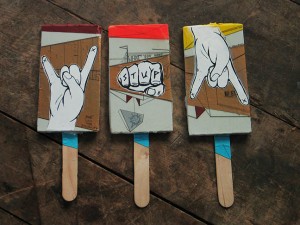 ---
Dream Journal: Was it Mickey's ear canal?
Posted on September 12th, 2011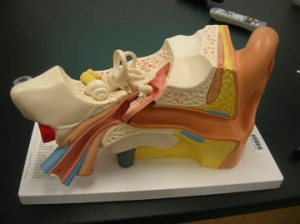 Just woke up 7:15 a.m. An amusement park, Disneyland, but downtown Oakland: traveling in the direction of Chinatown, near Lake Merrit. There was a young androgynous person available for a lift around town; for a small fee one could ride his/her shoulders. I guiltily climbed aboard along with an unidentified friend of mine at the androgynous person's insistence.
As we made our way through the city, we found ourselves following a 70′s era modified flat grey dodge charger: its length and width were the same so that it could accommodate two chassis in a 90 degree cross configuration. Instead of a traditional steering method, one of the chassis was higher than the other, if you needed to navigate left or right, the second chassis would lower down lifting the wheels of the first one off of the ground. The driver, a dreadlocked woman, sat on top of the roof of the charger instead of inside. She was having trouble maneuvering the car to do exactly what she wanted within the dense traffic. As soon as several cars pulled out of her way, she took off screeching; the body of the car violently jerking back and forth as she sped forward.
I took the curved escalator down to the pillared outdoor corridor that led to the haunted house, which was my home. Todd Reynolds suddenly joined the yet-to-be-identified friend and myself on the shoulders of the androgynous person, although at that point our ride seemed more like a convertible travel pod. Todd was going on about how he had just got a job as a reenactment historian for 90 dollars a day: I told him he could do better. He was, however, elated and very proud of himself.
We finally arrived at the haunted mansion aka my house, and there was police crime tape blocking off the entrances. The three of us disregarded all warning signs and proceeded inside. Upon entering the house, I became aware of an unseen gunman: not through any specific action of the gunman, the scene was quiet: I just knew he was there, somewhere. At this point somehow we all got separated, which sucked because everyone but me had a pistol. I had to make my way to the second floor, but between floors, instead of a staircase was an ear canal you had to crawl through. This was tricky, because it was really tough squeezing through some of the tight angles. Right then, I heard a gunshot, well, it could have been a gunshot, I wasn't sure. It could have been…I remember thinking something having to do with a carrot snapping, or a dress shoe dropping…but more likely it was a gun. I waited in the ear canal for something to happen.
Waited to hear a stirring….something….nothing.
---